The other day a friend of mine asked me if anybody can really make money filling online surveys, my first thought was to tell him that no way in hell you can make money with surveys, that was just a big waste of time. But then I asked to myself… What if? What if you can really earn money with online surveys? What if someone out there is making a living filling surveys?
So before crush my friend's dreams into small pieces I decided to investigate a little bit about surveys online.
What are Online Surveys?
The very first notion I learned about marketing is to "know what people want and give it to them". Is marketing 101 right? But what is the best way to know what people want? Exactly! to directly ask them what they want, what they like, what are their preferences, what they don´t like, how they feel about a product or service. Here is when surveys enters the game.
So what is a survey then? is simply a tool used to collect data and gather information about individuals.
This information is useful for companies because they can target they products to certain segment of people.
OK, I Get It, But Why Companies Are Willing to Pay for Surveys?
Simply because surveys are boring as hell, is like a gazillion questions about a wide different topics, and not everybody are willing to spend time answering questions about themselves.
That's why some companies are willing to pay, others gives you a treat, like a discount coupon, a certificate, a gift card, a sample of the product or a mug. But some companies are willing to give you cash in exchange of your opinion.
Online surveys are no different from physical surveys, you will spend time filling them, and you will receive a treat.
How to Apply for an Online Survey?
That's a very good question my friend, first of all you must comply with some requisites for example:
Some companies requires that you must be 13 years old or in most of the cases you must be 18 years old (in order to get paid)
You must live within the countries listed by the companies as allowed to take the survey, generally English spoken countries.
You must fill a profile where you will apply for your survey
Now if you comply with those requisites you will receive in your email a list of offers from companies that want you to give your opinion and they pay you once you send the survey back. It's just as simple as this, there is no catch and you will make a boatload of money…. just kidding!
My Objections Against Online Surveys
There is some issues with this, and I will speak by my own experience with some survey companies, I tried two of them Survey Spot and Survey Savvy, both are known companies with years of experience in the survey business and a well earned reputation… however, I don't know if it was by my geographical location or the profile I filled, but in the year I tried I only filled three surveys and I only made 9000 points (you earn points with each survey and you can trade them for money, discount coupons or a free sample) Sadly for me I didn't qualify for many of the most well paid surveys, because the juicy one was geo-targeted and I was way out of range (I'm in Santiago Chile)
So I waited and waited refreshing my inbox to see if i get one survey and nothing, no more than the first two I received… and the "we don't have surveys for you" keep popping up.
But the fact that my experience was bad with online surveys it doesn't mean that it will be your story as well. There are some people who make a nice income giving their opinion to companies.
If you still want to bite the bullet and try some of these it probably will be a good idea to do it well informed and with the help of someone to take you by the hand and guide you through the mysterious survey world.
Here are some products that will help you know your way around:
Get Cash for Surveys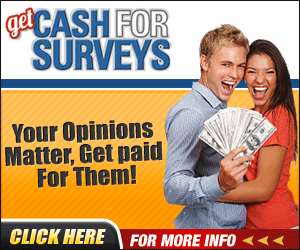 This is a product that will guide you by the hand on how to take most advantage of online surveys, ok you may say that sign in to join to online surveys is free and I'm giving you a $37 product to do so… but would Dante cross the inferno without Virgil's help?
Click Here to Take a Look at Get Cash for Surveys
I'm not forcing you to go and buy this program, but if you do you will receive some help, the kind of help I needed when I joined Online Surveys… after all what can you lose? there is always the 30 days money back guarantee.